Title: Arsenic and Adobo
Series: Tita Rosie's Kitchen Mystery, #1
Author: Mia P. Manansala
Publisher: Berkley
Publication Date: May 4, 2021
Genre: Cozy Mystery
Rating: ☕☕☕☕ (4/5)
Content Warnings: *highlight to view* {evidence planting, drug trafficking, physical assault, murder}
BLURB
When Lila Macapagal moves back home to recover from a horrible breakup, her life seems to be following all the typical rom-com tropes. She's tasked with saving her Tita Rosie's failing restaurant, and she has to deal with a group of matchmaking aunties who shower her with love and judgment. But when a notoriously nasty food critic (who happens to be her ex-boyfriend) drops dead moments after a confrontation with Lila, her life quickly swerves from a Nora Ephron romp to an Agatha Christie case.
With the cops treating her like she's the one and only suspect, and the shady landlord looking to finally kick the Macapagal family out and resell the storefront, Lila's left with no choice but to conduct her own investigation. Armed with the nosy auntie network, her barista best bud, and her trusted Dachshund, Longanisa, Lila takes on this tasty, twisted case and soon finds her own neck on the chopping block… (via Goodreads)
THOUGHTS
Arsenic and Adobo is probably one of my most anticipated reads this 2021. With a catchy blurb and an offbeat title that appeals specifically to the Filipino in me, it's hard not to get intrigued. To be honest, I was never a fan of mystery and thriller books just because they're sure-fire anxiety bombs for me and I don't normally let myself actively undergo that amount of stress. But after I finished the book, I couldn't even care less: I can say that the anticipation to finally read it was all worth it. I was also introduced to a sub-genre I never knew I needed: Cozy Mystery.
In this story, we follow Lila Macapagal, as she and her family's life was turned upside-down when his ex-boyfriend drops dead while eating in her family's restaurant. There was something distinct with the whole tone of the book – how the dire circumstances were consistently being complemented by moments of friendship, familial bonds, and exploration of identity. Perhaps the highlight of my reading experience going into Arsenic and Adobo was how familiar it was and how it also paints a picture of what it was like living in the diaspora, wrestling to maintain identity while being surrounded by a plethora of cultures.
There were a lot of laugh-out-loud moments in this book that somehow offset the dark undertones that it has. Old-fashioned grandmothers, too much food on the table, nosy neighbors and relatives (hello, Calendar Crew), consistent questions about dating and marriage plans, and how news travels fast inside the clan/community. These are all things that were too commonplace, even in the local scene, to the point that it's almost an inside joke. There were also a couple of hard-hitting topics touched upon, like the deep-rooted concept of "utang na loob" (which has always been a double-edged sword, personally) and the burden of familial expectations towards the young. These have always been a touchy topic in Asian households, not only for Filipinos, so I was glad that these were mentioned/explored (albeit briefly) as I feel like telling an Asian story is not complete without it.
And of course, can I even forget? The food! This book is sooo packed with all Filipino foodie goodness that it made me crave for a lot of the usual fare that we have at home (e.g., adobo, puto cake, coco jam, pandesal with coffee). Working too long in the city made me want to explore the more delicate coffee options but this book still makes me understand the charm and comfort brought about by instant coffee. Arsenic and Adobo made me feel so conflicted because reading about Filipino hospitality, in full display here, was so hard to reconcile with the foundation of this story (i.e., murder) because the thought of the former always just brings me warmth.
Between Lila's penchant for baking and her amateur sleuthing, it was a joy reading the story from her perspective. The plot got too real and too dark by the very end. I loved that Mia P. Manansala kept me guessing as to who did it and the motive even at around the 90% mark. I was amazed at how Mia was able to wrap it all up in a very satisfying way while still keeping the reader engaged enough to want a sequel. I wasn't aware that Arsenic and Adobo is part of a series going in but, now, I'm excited with the prospect of exploring more of Lila's adventures in Shady Palms. Though I wasn't fully in love with Lila as a character, I am excited to see more of her in the upcoming books.
There's also something to be said in the way Arsenic and Adobo was written. I attended the Filipino American International Book Festival in San Francisco last October 2019 and I remember hearing one of the Fil-Am authors in a panel saying that one of the ways they try to own and honor their heritage is by simply not italicizing any Filipino words or terminology. I'm not sure if this is something intended by the author but that sense of normalcy in the flow and usage of Filipino words and catchphrases (and the implicit assumption of general familiarity with all these distinct cultural nuances) struck me as something special. This is a book that knows exactly who its audience is while also being open to other crowds by explaining them still in the same sentences. If you're a Filipino reading this, you will be comforted with familiarity. If you're someone coming in from another culture, this is really a worthy introduction.
Overall, I really enjoyed reading Arsenic and Adobo. And I'm looking forward for more. 💛
DISCLAIMER: I received an advanced reading copy of Mia P. Manansala's Arsenic and Adobo c/o Berkley Publishing Group through Caffeine Book Tours in exchange for an honest review. Thanks again to Shealea of Shut Up, Shealea and Mia Manansala for the opportunity to read this in advance! (View full tour schedule HERE)
RATING
QUOTABLE QUOTES
This was the talk I'd been avoiding for the past few months. Filipinos were all about family. My whole life I'd had the concept of "family first" drilled into my head, and it's how I'd lived until I went away to college. It's not that I disagreed with it, exactly. Even someone like me felt utang na loob, that impossible to quantify sense of indebtedness and gratitude, to the people who'd raised me. But where was that magical line between selfishness and independence? Between family and myself?

THIS.
And I also know that when things go down and life is against me, my family will always have my back. We all take care of each other in our own way. Yours is the same. How many people can say that and actually mean it?
"The law tended to work differently for people like us.
"Justice isn't always so clear-cut."
GET THE BOOK! >> Amazon | Book Depository | Barnes and Noble | IndieBound | Fullybooked (upon request)
About the Author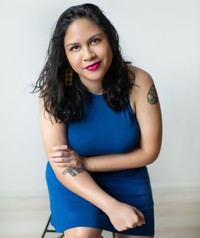 Mia P. Manansala is a book coach and the author of ARSENIC AND ADOBO (Berkley 2021), the first in the Tita Rosie's Kitchen Mystery series.
She uses humor (and murder) to explore aspects of the Filipino diaspora, queerness, and her millennial love for pop culture.
She is the winner of the 2018 Hugh Holton Award, the 2018 Eleanor Taylor Bland Crime Fiction Writers of Color Award, the 2017 William F. Deeck – Malice Domestic Grant for Unpublished Writers, and the 2016 Mystery Writers of America/Helen McCloy Scholarship. She's also a 2017 Pitch Wars alum and 2018-2020 mentor.
A lover of all things geeky, Mia spends her days procrastibaking, playing JRPGs and dating sims, reading cozy mysteries, and dreaming of becoming best buds with Wonder Woman and Kamala Khan.
When she's not sassing her ever-so-patient husband, she's cuddling her dogs Max Power and Bayley Banks (bonus points to those who get the name references) at her home just outside of Chicago.
Mia is quite the joiner, as she is a member of Mystery Writers of America, Sisters in Crime, Crime Writers of Color, Banyan: Asian American Writers Collective, the Chicago Writers Association, and the Chicago Nerd Social Club.
Author Website | Twitter | Instagram | Facebook
---
Care to buy me a Kofi? CLICK HERE.